I am finally starting a new life in blog after much nervy key twiddling on my laptop. I figure if other women can so can I. Who knows where it may lead me. I hope it will connect me to the many like minded craft insomniacs (ie. can't sleep without having done something crafty each day) that I know exist because I've seen their blogs!
I will post a list of my far too many works in progress and it may encourage me to finish them.I am also far too easily distracted by making teeny tiny things from felt or recycled fabrics but am going to remedy this by aiming to make 1 small project each day for as long as i can. some of these may be sold either from my bake sew and sow website (when I get it up and running) or at other local events or I may decide to hoard the lot!
These are in my current hoard. Most of my other little creatures went to new homes at an Advent Fair. The wirework butterflies were originally going to be part of a piece of wall art I was making for my dining room but people seem to like them as brooches so I keep having to start again. The cupcake appliques are ongoing as they get sewn onto Aprons and bags but I love making them and keep finding new fabrics to try out. I was really pleased with the Christmas pud which I made for a couple of 'merry christmas' aprons friends had asked me to make so I will give those a go again
Lucy's Jumper
Ahh, well! Lucy wants an aran jumper. No problem, made one for Emma last winter. Oh but Lucy wants it soft so my chunky aran is out. This one is in Baby aran so unless serious neglect of other projects occurs she may just get it in time for next winter.
Crochet Bed Throw
Great idea to make out of granny squares to co-ordinate with my bedroom wallpaper. Thing is we have a super kingsize bed which means I will need approx. 800 squares!! ( that looks even worse in print)
work to date - not enought to write home about. Even worse I taught Emma to crochet in November as she wanted to make a multicoloured one for her bed at Uni, SHE FINISHED HER LAST SQUARE THIS WEEK and only has to sew them all together. Yes I know she only needed 260 but good going.
Emma's nearly sewn throw
Matroyshka
I found these gorgeous Tea Towels at Paperchase and am hand embroidering around the colours of the print with the intention of turning it into an apron (eventually). This one ventures out of my craft bag every now and then
Dress a girl around the world
I saw this charity project appearing in articles in Craftseller and Simply Homemade magazines and checked out the website. I took the idea in to the Head teacher at my daughters' past primary school where I am still involved in various forms.
www.our-lady-saints.lancsngfl.ac.uk/
She thought it would be a fun idea as a day workshop in school to involve yrs 3,4,5+6 as part of design technology, and a chance to involve parents/ grandparents,etc in a worthy project. Also to use the shorts for boys idea so our boys dont feel left out. We are going to be doing this in April so I will be busy gathering ideas, advice, volunteers and donations of fabric/pillowcases, trimmings and elastic. Mrs Griffin (head teacher) also liked the idea of adding a pocket so the children can write a message to accompany their finished item. I am also making some small dolls (stocking tots) in their own papoose and teddies made from recycled fleece and knitted scarves saved when I cleared out the coat cupboard last week ( I knew I'd find a use for them). Here is a picture of the ones I made yesterday and if I organise myself properly may post a tutorial for the dolls as they are an original creation. The teddy pattern I found online and here is the link.
www.eldrbarry.net/im/meg/simpbear.pdf
I reduced the pattern size on our home copier to 30% (I think) and they are soooooo cute.

stocking tots in and out of papoose

mini teddies, still need eyes+nose
The school is hopefully going to show their dresses and shorts in a fashion show. I got in touch with the UK reprasentative for the charity, the very nice Louise Horler aka Sew Scrumptious whose blog I also used for a lot of help
sewscrumptious.blogspot.com/
and she is more than willing to accept the shorts as well as the dresses for Hope 4 Kids. I cant admire her enough for the work she is doing. I took details in to the toddler group (even though I dont have one) I help at and a few other mums took details for other schools so hopefully the charity will get some more publicity.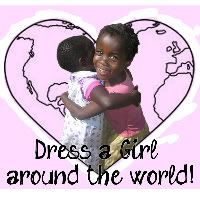 so watch this spot and see if there are enough hours in the day.
COMING SOON - WHAT DID THE MINIONS DO TODAY